1 Stock to Buy, 1 Stock to Sell This Week: Nvidia, Deere
Fed minutes, more earnings, Thanksgiving/Black Friday will be in focus this week.

Nvidia

is a buy with another beat-and-raise quarter expected.

Deere

is a sell with disappointing guidance on deck.
Looking for more actionable trade ideas to navigate the current market volatility? Members of InvestingPro get exclusive ideas and guidance to navigate any climate. Learn More »
Wall Street's three major indexes closed slightly higher on Friday to notch their third straight winning week as investors held fast to the belief that U.S. interest rates have peaked and might even fall next year.
For the week, the blue-chip rose 1.9%, the benchmark climbed 2.2%, and the tech-heavy jumped 2.4%.
Stocks have been on a tear this month, with the up 9.9% amid signs of cooling inflation which have fueled hopes that the Federal Reserve is done raising interest rates.

With the Thanksgiving holiday just around the corner, Wall Street will have a shortened week of trading ahead. The stock market will remain shut on Thanksgiving Day – Thursday – and will close early at 1:00PM ET on Friday.
There will, however, be a full slate of economic data releases coming out in the days prior as investors continue to weigh the Fed's rate plans for the months ahead.
On the economic calendar, most important will be the minutes of the Federal Reserve's November FOMC meeting.
Meanwhile, the reporting season's last big week sees earnings roll in from market heavyweight Nvidia, as well as several retailers such as Lowe's (NYSE:), Best Buy (NYSE:), Kohl's (NYSE:), Nordstrom (NYSE:), and Dick's Sporting Goods (NYSE:).
Other notable companies include Deere, Zoom Video (NASDAQ:), Autodesk (NASDAQ:), and Baidu (NASDAQ:).
Regardless of which direction the market goes next week, below I highlight one stock likely to be in demand and another which could see fresh downside.
Remember though, my timeframe is just for the week ahead, Monday, November 20 – Friday, November 24.
Stock to Buy:

Nvidia
I expect Nvidia (NASDAQ:) to extend its march higher this week, possibly culminating in a breakout to a new all-time peak, as the tech giant prepares to deliver another beat-and-raise quarterly earnings report amid soaring demand for its AI chips.
Nvidia is scheduled to release its Q3 update after the U.S. market close on Tuesday, November 21 at 4:20PM ET, and it is expected to shatter its sales record once again as growth prospects in artificial intelligence remain strong.
A call with CEO Jensen Huang is set for 5:00PM ET.
Market participants expect a sizable swing in NVDA shares following the print, as per the options market, with a possible implied move of around 8% in either direction. Shares rose about 3% after its last earnings report in late August.
As could be expected, an InvestingPro survey of analyst earnings revisions points to mounting optimism ahead of the print amid the rapid shift into accelerated computing and generative AI.
Profit estimates have been revised upward 38 times in the last three months, compared to zero downward revisions. Meanwhile, 50 out of 53 analysts covering NVDA have a Buy-equivalent rating on the stock.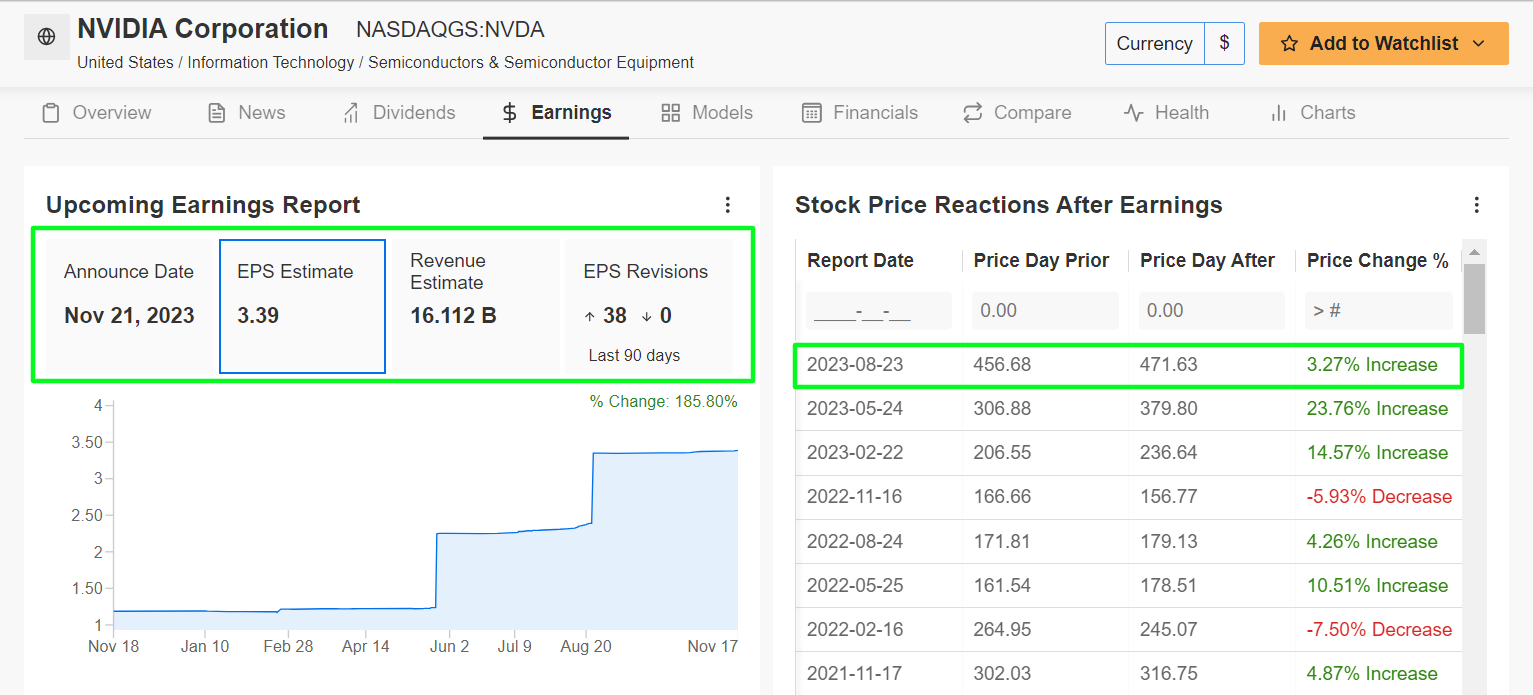 Consensus expectations call for Nvidia to post third quarter earnings of $3.39 per share, surging 485% from EPS of $0.58 in the year-ago period. If that is in fact reality, it would mark Nvidia's most profitable quarter in its 30-year history.
Meanwhile, revenue is forecast to skyrocket 172% year-over-year to $16.11 billion, as the tech leader benefits from soaring demand for its A100 and H100 AI chips, which have become a standard in AI development.
As such, I believe chief executive Jensen Huang will provide better-than-expected profit and sales guidance for the current quarter and beyond as the Santa Clara-based company remains well positioned to thrive amid the current environment.
Key topics likely to come up will be further details on AI services revenue and the impact of tighter China export controls, as well as an update on the data center supply chain.
NVDA stock ended Friday's session at $492.98, just below its record high of $502.66 reached on August 24. At current levels, Nvidia has a market cap of $1.2 trillion, making it the fifth most valuable company trading on the U.S. stock exchange.
Shares are up a whopping 237% in 2023, making Nvidia the top-performing S&P 500 stock of the year, thanks to ongoing AI-related buzz.
Stock to Sell:

Deere
I believe Deere (NYSE:) stock will suffer a challenging week ahead as the agriculture-and-heavy machinery equipment maker's latest earnings and outlook will disappoint due to declining industry demand trends and an uncertain fundamental outlook.
Deere's fiscal fourth quarter report is due ahead of Wednesday's opening bell and results are likely to take a hit from signs of slowing global machinery demand amid the challenging economic environment.
As per moves in the options market, traders are pricing in a swing of about 5% in either direction for DE stock following the release. Shares tumbled almost 7% after its fiscal Q2 report came out in mid-August.
It should be noted that eight out of 18 analysts surveyed by InvestingPro have cut their earnings estimates in the 90 days leading up to the print, as Wall Street turned cautious on the tractor maker's prospects.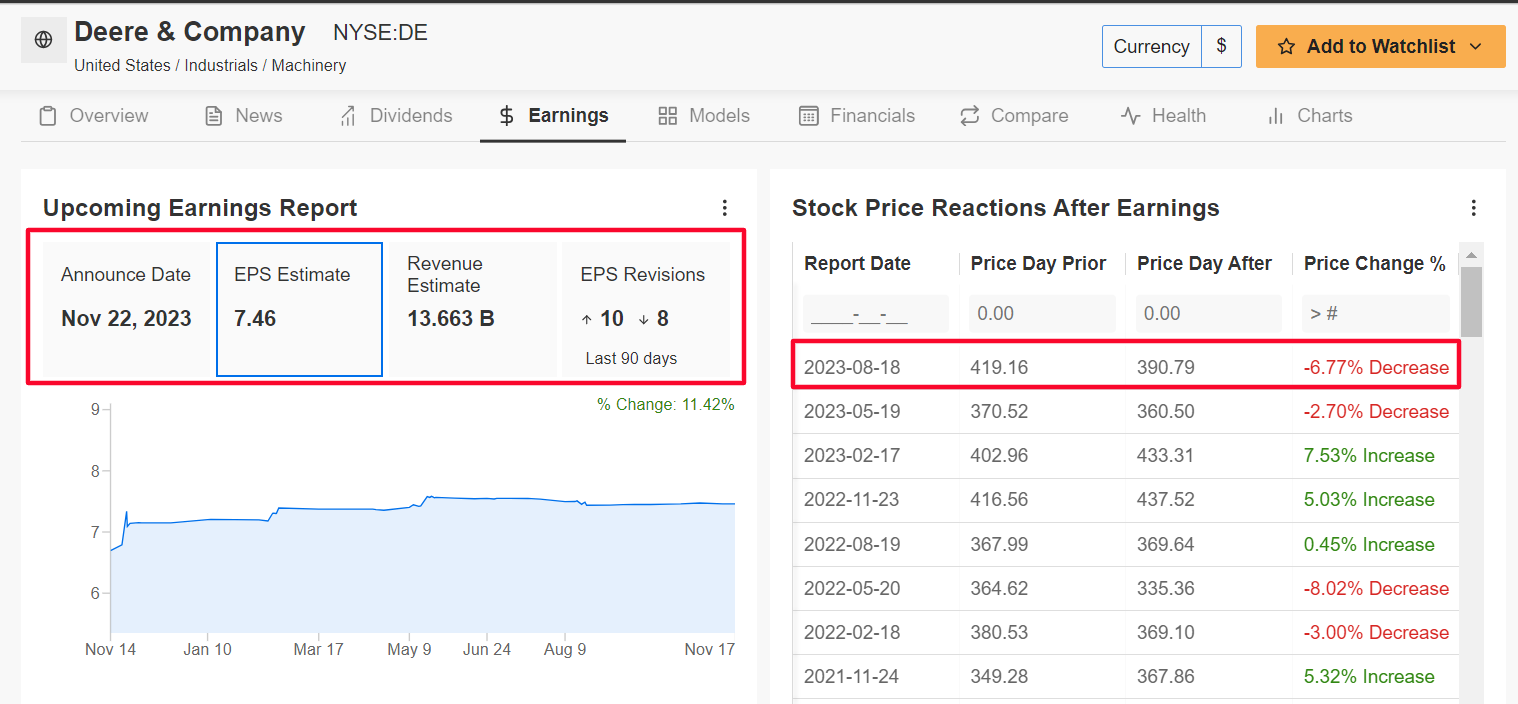 Deere is seen earning $7.46 a share for its fiscal fourth quarter, virtually unchanged from EPS of $7.44 in the year-ago period.
Meanwhile, revenue is forecast to dip 4.8% annually to $13.66 billion, reflecting slowing demand for its wide range of agricultural, mining, and construction equipment amid worries over the health of the global economy.
Deere reported a profit of $10.20 a share from sales of $15.8 billion in the fiscal third quarter of 2023.
Looking ahead, I anticipate the agriculture giant will disappoint investors with its forward guidance, given the uncertain outlook for farm and mining machinery sales in a slowing economy.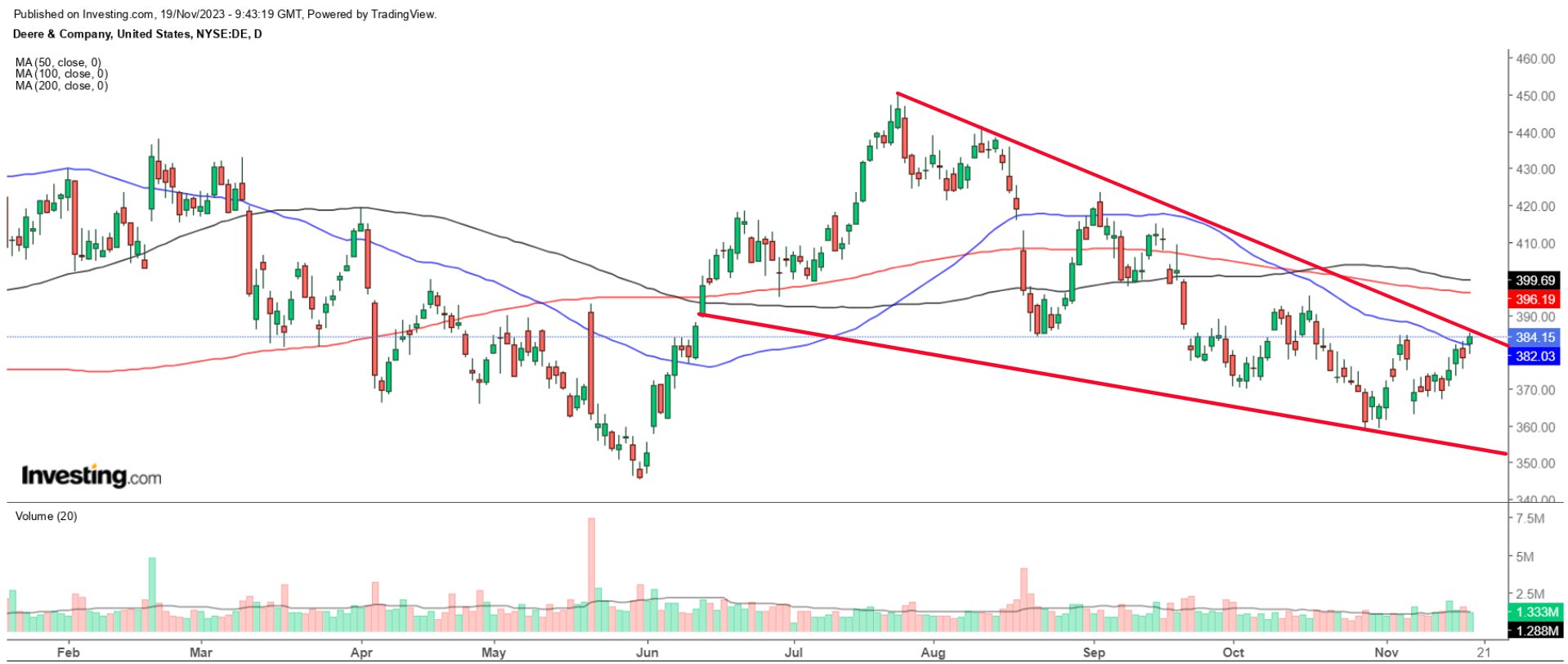 DE stock closed at $384.15 on Friday, earning the Moline, Illinois-based heavy equipment maker a valuation of $110.6 billion.
With less than two months to go in 2023, Deere shares are down 10.4% year-to-date, and are nearly 15% below their July high of $450.
Shares have come under pressure due to investor concerns over the outlook for the farming and mining industries amid renewed fears over the global economy.
Be sure to check out InvestingPro to stay in sync with the latest market trends and what they mean for your trading decisions.
Disclosure: At the time of writing, I am long on the S&P 500, and the Nasdaq 100 via the SPDR S&P 500 ETF (SPY), and the Invesco QQQ Trust ETF (QQQ). I am also long on the Technology Select Sector SPDR ETF (NYSE:). I regularly rebalance my portfolio of individual stocks and ETFs based on ongoing risk assessment of both the macroeconomic environment and companies' financials. The views discussed in this article are solely the opinion of the author and should not be taken as investment advice.