Filecoin Uphill Battle To $3.5 – What's Holding It Back?
Filecoin (FIL) has been facing a long-term downtrend, marked by wavering buyer confidence and a series of concerning technical indicators. A recent price analysis reveals a bearish order block at $3.6 on FIL's one-day chart, with a closely tested liquidity zone at $3 over the past month. This downward trend has persisted since early August, as evidenced by a sequence of lower highs and lower lows.
On the weekly chart, two key levels have held significant sway over FIL's fortunes since June 2022. The resistance at $4.8 and the support at $2.42 have acted as formidable barriers and lifelines, respectively. 
Analysis suggests that a breakthrough above the $4.8 resistance could signify the first step toward establishing a long-term uptrend. Furthermore, the presence of a bearish breaker block in the 1-week timeframe, spanning from $4.6 to $5.7, reinforces this notion.
Filecoin Bearish Signals Abound
The same analysis highlights that technical indicators have been unforgiving for FIL, with both the On-Balance Volume (OBV) and Relative Strength Index (RSI) painting a grim picture. The OBV has been in a consistent downward trajectory since mid-July, indicative of sustained selling pressure. 
Meanwhile, the RSI exhibits bearish momentum, recording a reading of 31 and consistently residing below the neutral 50 mark since late July. These combined signals strongly suggest that FIL may experience a drop below $3 and trend towards $2.4 in the weeks ahead.
As of the time of writing, the current CoinGecko price for Filecoin (FIL) stands at $3.04. Over the past 24 hours, FIL has experienced a decline of 1.7%, while the seven-day period has seen a slump of 4.3%. These recent declines add to the challenges that FIL has been facing in its price action.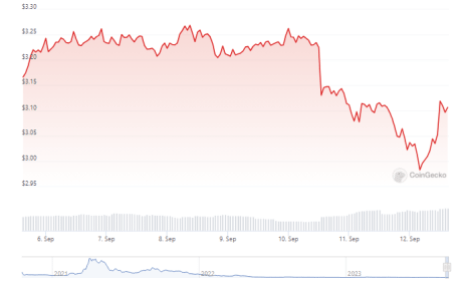 Filecon seven-day price movement. Source: Coingecko
Investor Perspective: A Silver Lining For Filecoin
Despite the prevailing challenges, some seasoned investors are turning their attention to Filecoin. A report cites Filecoin's unique value proposition, an accomplished team, and an incentivized mechanism as reasons for optimism.
Filecoin, as a decentralized data storage system, allows users to securely store and retrieve data in a decentralized manner. Its expert team is committed to ensuring its continued development and success. Moreover, the incentive mechanism rewards users with FIL tokens for sharing their storage space, fostering a robust and self-sustaining ecosystem.
Filecoin's technical indicators may currently signal a challenging road ahead, with a downtrend seemingly in progress. However, some investors remain undeterred, recognizing the project's unique strengths and the potential for a brighter future. As the cryptocurrency market is ever-volatile, only time will reveal whether Filecoin can overcome its current obstacles and thrive in the long run.
(This site's content should not be construed as investment advice. Investing involves risk. When you invest, your capital is subject to risk).
Featured image from CryptoSlam