Arcade A2 Stretch Belt review – The Gadgeteer
We use affiliate links. If you buy something through the links on this page, we may earn a commission at no cost to you. Learn more.
REVIEW – I hadn't heard of Arcade Belts until I received one for Christmas and it quickly became my go to for work and outdoor activities. I did have a few pet peeves with it so when I saw they came out with the new Arcade A2 Stretch Belt I had to try it out.
What is it?
The new Arcade A2 Stretch Belt has a more contoured buckle that has a lower profile and is molded to fit the curve of your waist. It has a tapered buckle design which feeds through belt loop's tail end first. This was my main annoyance with the original buckle on my Arcade Ranger belt. The belt stretches to allow freedom of motion but has a secure fit. It is machine washable and dry-able so you could just leave them on your pants if you want when you do laundry. The metal free buckle also makes it airport friendly so you don't have to take it off when you go through security.
What's in the box?
Arcade Carto Ivy Green Sand with A2 Buckle
Hardware specs
Length: Regular fits up 40" (101.6cm)

Atlas model has long version available that fits up to 50" (127cm)

Width: 1.5" (3.81cm)
Material: Repreve ® recycled polyester yarn
Design and features
The new Arcade A2 Stretch Belt fixes all the issues I had with the original buckle on my Ranger belt. The new tapered buckle doesn't catch at all anymore when going through loops and now I can feed it through using the tail end which is the traditional method.
With the Ranger belt, I had to insert it buckle first the opposite way through the left side because the other end would always catch and because the tail end had the doubled over end loop so the extra thickness made it catch on the loops as well.
The A2 has the same secure fit with great flexibility when you need it which I prefer when hiking, biking, or playing disc golf. When I have a backpack or disc golf bag on it doesn't catch on the top of the belt which happens with my leather belts and gets annoying.
The Arcade A2 belts are woven from recycled post-consumer plastic bottles that they call Repreve ® which is more sustainable and reduces plastic bottle waste. They have great stretch and don't pinch no matter what position I'm in.
What I like
New buckle is easier to put through loop's tail end first
Stretchy but secure
Airport friendly
What I'd change
Nothing but would like more colors and patterns and add slim 1.25" wide versions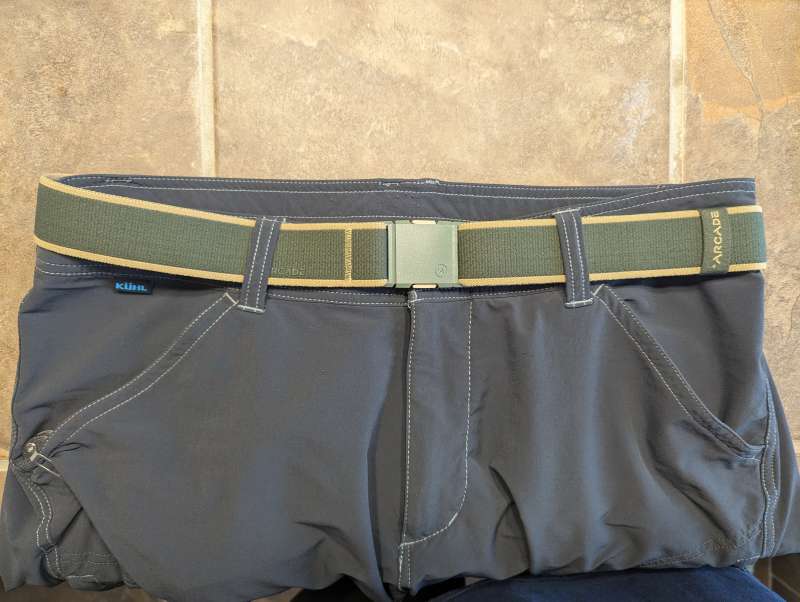 Final thoughts
The new Arcade A2 buckle is awesome and although their color choices are limited at the moment I expect more will be added soon. The A2 buckle has improved upon an already great belt and fixed the very few issues I had with the original. I can't wait for a Slim 1.25" version and more colors to come out because I will definitely be getting a few more.
Price: $34.95
Where to buy: Arcade Belts you can also find a selection of their belts on Amazon
Source: The sample for this review was provided by Arcade.
Check More Latest Mobile News Click Here– Latest Mobile News