iPhone SE 2022 Review: Still Worth Buying in 2023? | News 4 Social
With a 5.4-inch LCD screen, a single camera on the back, and an ancient design, the purchase of the iPhone SE 2022 was already questionable last year. At that time, however, we recommended the phone mainly to those Apple fans who wanted to stick with the popular design with a home button. One year later, Apple launched new smartphones and we ask ourselves: Is it still worth buying the iPhone SE 2022 in 2023?
Good
Insane performance level

High-quality workmanship

Surprisingly good photo and video performance

Solid battery life that lasts up till late at night
Bad
Display is simply outdated

Too few camera functions

Low storage space in the base model without expandable memory

More expensive than predecessor at market launch
The iPhone SE in a nutshell
In just under 12 months, the price of the iPhone SE 2022 has stayed the same. Pricing starts at $429 in March 2023, just like when it was launched. Paying so much money for a smartphone that was already rather outdated at release is uninteresting even for most Apple enthusiasts.
However, those who love the design of the iPhone SE or really want to have an iPhone but cannot afford models like the iPhone 13 mini or the iPhone 14 will find a good everyday companion in the SE 2022. It still offers enough performance in 2023, can handle all available apps and mobile games without effort, and stinks especially in terms of the camera – all things that have not really changed since the release, though.
Design: Everything remains the same
Apple has adopted the design of the iPhone SE 2020 without offering any visual changes.
Thus, the latest iPhone inherits the design of the iPhone 5S, which was introduced way back in 2013, with several stops in between. In terms of improvements, however, Apple has included additional shatterproof glass at the front and back and secured the device against water and dust according to the IP67 rating.
---
What I liked:
Beautifully compact and, above all, ultra-thin.
IP67 certification for added durability.
Touch ID still works great in 2022.
What I disliked:
Very thick bezels.
Design has seen better days.
---
The familiar form factor of the SE series still works just fine in everyday use. You carry around a particularly light phone that tips the scales at 144 grams. The dimensions of 138.4 x 67.3 x 7.3 mm are also surprisingly compact in this day and age where the "phablet" form factor reigns supreme. While the size of a smartphone is a matter of taste, it is hard to argue about the new IP67 certification. The SE 2022 is more resistant in more than one way, and can be used even when you are out in the rain.
While the form factor is still good enough for 2022, the display of the iPhone SE 2022 no longer blows anyone away. Color reproduction is very good thanks to True Tone technology, but the LCD screen lacks brilliance and brightness. This is especially noticeable when taking pictures at oblique angles, where the display turns into a black mirror under sunshine. The resolution is also relatively low at 1,334 x 750 pixels.
However, it is the size of the display that will prevent many people from buying it. Measuring 4.7-inches across diagonally isn't enough for YouTube and Netflix sessions, which made me frequently switch to my 13.3-inch notebook in the review. The fact that the display only offers a 60 hertz refresh rate is a technical drawback that I also have to mention. However, the smooth animations in iOS 15 make you forget about that pretty quickly.
My short conclusion for non-enthusiasts: If you are used to the design of the iPhone SE 2022 or the iPhone 8 and cannot get enough of the physical Home button, you will hardly have to get used to anything new. However, there are now many displays that are technically superior to the iPhone SE 2022's display. If you want to try them out, I recommend going to the tech store where you can experience modern displays!
Apple iPhone SE (2022) software
One reason why the iPhone SE 2022 is still relevant at all in 2023: Apple's very good software update policy.
After all, the cheapest iPhone should receive software updates for at least four years, just like its brothers. 
So, if we assume iOS 15 in 2022, you can theoretically use the smartphone with iOS 20 until 2027. However, it is not 100% certain that Apple will continue to pursue this strategy.
---
What I liked:
Modern and intuitive operating system.
Long warranty for updates.
Many apps and mobile games still optimized for home button.
What I disliked:
---
Apple's operating system iOS is a matter of taste—most Apple users love it, many Android fans find it too little configurable and too restricted. However, Apple has to be given credit for the fact that the software is intuitive in most cases and the learning curve is steep even for newcomers.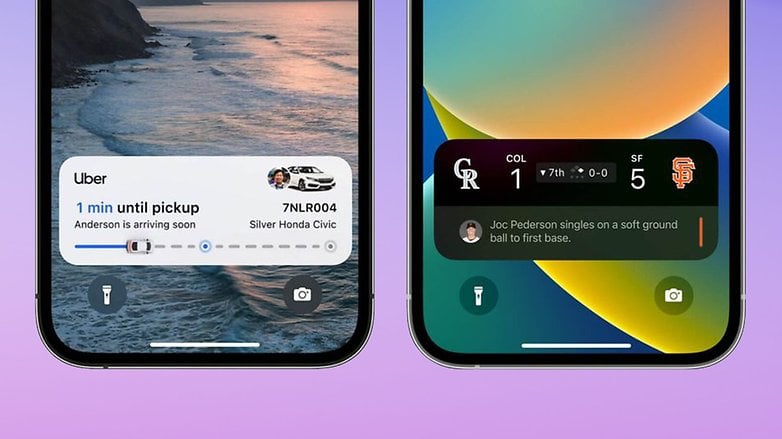 Something that would not be so easy with Android: Most apps and also all functions in the operating system are optimized for the small display and for control with the home button. It proves that Apple still supplies old smartphones with new software and that the company generally only has to update very few devices with new software.
Performance: Like a Ford Fiesta with an F1 engine
The stroke of genius on the iPhone SE 2022 would be the built-in processor. 
This is because Apple installed its own A15 Bionic SoC in the smartphone, which results in a performance level that is on par with the iPhone 13 Pro Max in terms of CPU, GPU, and NPU. However, Apple installed less RAM in this model and also takes a step back in terms of internal storage.
---
What I liked:
Extremely high-performance level.
Good stability under a permanent, intensive load.
Smooth multitasking despite having just 3 GB of RAM.
What I disliked:
Low-capacity memory variants.
No expandable memory.
---
I already compared the iPhone SE 2022 with a tuned-up Opel Corsa in the hands-on and the comparison has proven itself. You are using a smartphone that is a typical wolf in sheep's clothing, where it renders 4K videos faster than any Android handset despite its retro look and also achieves better scores in benchmarks. That is impressive in such a slim chassis, especially since there is no excessive heat build-up in the review when placed under a heavy workload.
In a 3D Mark WildLife benchmark which simulates a high load for 20 minutes, performance remained nice and stable without the phone getting uncomfortably warm. Still, the phone is not really suitable as a gaming smartphone, since the display is too small and the performance is suboptimal.
Apple iPhone SE 2022 benchmarks compared
| Benchmark | Apple iPhone SE 2022 | Apple iPhone 14 | Apple iPhone 14 Pro | Samsung Galaxy S22 | Oppo Find X5 Pro | OnePlus 9 | Xiaomi Mi 11 |
| --- | --- | --- | --- | --- | --- | --- | --- |
| 3D Mark Wildlife | 9,214 at 55.2 fps | Too powerful | Too powerful | 7035 at 42.10 fps | 9,300 at 55,7 fps | 5,683 | 5,702 |
| 3D Mark Wildlife stress test (best / worst) | 8.173 / 6.762 | 9.761 / 8.321 | 9.599 / 8.121 | 5581 / 3537 | 9,192 / 6,069 | 5,716 | 5,697 |
| Geekbench 5 (single / multi) | 1.737 / 4.690 | 1.699 / 4.817 | 1.885 / 5.406 | 1,158 / 3,414 | 846 / 3,324 | 1,119 / 3,657 | 1,085/3,490 |
What didn't really stand out in the review is the rather small working memory of 3 GB. Multitasking always runs smoothly, and even several opened apps do not bring the operating system's stability to its knees. What I still criticize, however, is the tiny base storage of 64 GB. As I mentioned in my comment, this is a big drawback considering the price-to-performance ratio, since Apple offers 128 GB as standard in the iPhone 13 series. You can only expand the internal storage via an iCloud update, which is also a disadvantage in my opinion.
My short conclusion for non-enthusiasts: If you buy the iPhone SE 2022, you can enjoy all apps and mobile games in the highest quality graphics settings. This will probably remain so for the next few years, because the iPhone offers quite a performance surplus. If you would like to record videos and snap photos, you might want to seriously consider the 128 GB or 256 GB version.
Camera: Top quality with few options
The back of the iPhone SE 2022 is adorned by a single camera that offers a 12 MP resolution.
Its light intensity is solid thanks to an open aperture of f/1.8 – but the real magic happens in the phone's software. Because thanks to the ISP of the A15 Bionic, features like Smart HDR 4, Deep Fusion and Photographic Styles are available to you. However, you will have to make do without Cinematic Mode, an ultra-wide-angle camera, and a Night Mode.
---
What I liked:
High image quality.
Very good 4K videos at 60 frames per second.
New features available despite an old camera.
What I disliked:
Camera is clearly more rigid than its competition.
Many iPhone features are missing (Cinematic Mode, Night Mode, and more).
Selfies are not very great.
---
In my hands-on, I had already included several sample pictures in a gallery, which I also recommend you to check out in this review. The picture quality of the iPhone SE 2022 is better than initially thought. Apple gets a lot of dynamic range and sharpness out of the old-established sensor with Smart HDR 4 and Deep Fusion. This makes the SE 2022 a very good snapshot camera.
However, if you want to go beyond simple point-and-shoot, you get less flexibility with the iPhone SE 2022 than with current iPhone 13 models. For example, both an ultra-wide-angle and a telephoto camera are missing, while the Night Mode and Cinematic Mode for videos, we miss exciting features that Apple introduced and improved in recent years. Here, the smartphone with a single camera falls short.
In this longer review, I also had the opportunity to try out the video quality of the iPhone SE 2022. And it behaves just like the picture quality – videos look great thanks to 4K resolution and 60 frames per second, but there is a lack of flexibility. You can get an impression of what it looks like in the video.
It is also a shame that Apple has not improved the front camera. Selfies look really outdated, and composing a photo with the smartphone upside down is difficult despite the reflective back. We also miss an ultra-wide-angle camera here.
My short conclusion for non-enthusiasts: With the iPhone SE 2022, you can take some really good pictures without any prior photography knowledge or skill, especially under good lighting conditions. However, other iPhone models and even inexpensive Android phones offer more possibilities with variable focal lengths and AI-supported features. The same applies to videos. Only the quality of the selfie camera is not really up-to-par in the iPhone SE 2022.
Battery: Stay relaxed throughout the whole day
Apple does not officially reveal the battery capacity of the iPhone SE 2022. Instead, we have the usual information about its runtime –
up to 15 hours for video playback, five hours less for streaming on Netflix and the like. You
can recharge the battery from empty to 50% in 30 minutes via a separately available 20-watts charger. Wireless charging is also supported, but it is unfortunately achieved without Apple's own MagSafe.
---
What I liked:
Solid battery life until late in the evening.
What I disliked:
No charger included.
Quick Charging only with Apple's 20-watt charger.
No MagSafe support.
---
I can confirm Apple's own statements about the battery life after my review. As already mentioned in the display, I did not watch videos frequently with the smartphone, and thus I easily got through every day on a full battery. The energy efficiency of the A15 Bionic is excellent, because a large battery can hardly fit into the thin chassis. The capacity is listed as 2,018 mAh on the Internet, but Apple has not confirmed this just yet.
The outdated aspects of the iPhone SE 2022 is noticeable in the charging technology used. That's because when the iPhone 8 was released, the MagSafe standard for iPhones did not exist back then, which enables clever accessories like magnetic power banks. Other iPhone models offer more here, but at least the iPhone SE 2022 includes support for Qi chargers.
I still find the fact that the iPhone SE 2022 does not come with a charger relevant as a budget iPhone. The original 20-watt power supply, which can be used for quick charging, costs $25. You might have to include that to the purchase price.
My short conclusion for non-enthusiasts: If you charge your current smartphone every night, you won't have to get used to the iPhone SE 2022. As a downside, you cannot use the iPhone SE 2022 with Apple's MagSafe accessory, and there is no included power adapter either. You'll have to pay an additional $25 for Apple's 20-watt charger, where it can charge the handset up to half its full capacity in 30 minutes.
Apple iPhone SE (2022) technical specifications
 
Phone
Product
Picture
Display
4.7-inch IPS LCD
750 x 1334 pixels (326 PPI)
Processor
Apple A15
RAM
4 GB
Camera(s)
Wide-angle: 12 MP | f/1.8 | PDAF | OIS
 
Selfie
7 MP | f/2.2
Software
iOS 15
Battery
2018 mAh
Up to 15 hours of video playback
Up to 50% charge in 30 minutes with a 20W adapter
Charger not included
Connectivity
5G, 4G LTE, 3G, Wi-Fi 6, Bluetooth 5.0, NFC with Apple Pay
Resistance
IP67
Water-resistant up to 1m deep for 30 minutes
Authentication
Touch ID
Dimensions and weight
5.45 x 2.65 x 0.29 inches
(138.4 x 67.3 x 7.3 mm)
5.09 ounces (144 grams)
Storage options & MSRPs

64 GB: $429
128 GB: $479
256 GB: $579

Offers*
Conclusion: For those with minimal wants
It's a real shame that Apple's cheapest iPhone doesn't drop in price even further. After all, the price increases for the latest smartphone models from Cupertino—the iPhone 14 generation started $100 more expensive, in part thanks to retiring the mini version—highlighted the need for inexpensive phones among many Apple fans. The iPhone SE 2022 is a good companion for everyday use, but it is still too expensive at $429.
Of course, you can always go for a refurbished model from a previous generation, and that would get you a better all-around phone (with the exception of CPU performance), especially with more capable cameras.
The iPhone SE 2022 in 2023 only really makes sense for people who absolutely want to stick to the design with the home button. Or for those who I called the "forgotten target group" back then. In other words, smartphone users who have a hard time adapting and need a phone that is future-proof but unchanged in terms of design and operation.
Apple iPhone SE (2022)
To device database
Check More Latest Mobile News Click Here– Latest Mobile News