Nothing Ear (2) Review: Carl Pei has Heard (and Listened)! | News 4 Social
Carl Pei, the young and hip CEO of Nothing, which is also a young and hip tech startup, just launched the Nothing Ear (2), a pair of wireless earphones for young and hip people. I'm not young and hip anymore, but I reviewed the Nothing Ear (2) and I'll tell you why they convinced me.
Good
Design identical to Ear (1) but still very cool

Completely reworked hardware

Hi-Res certified, LHDC codec

Dual Bluetooth 5.3 pairing

Very complete Nothing X application (Android & iOS)

Qi Wireless Charging
Bad
Average battery life

Unchanged design from the Nothing Ear (1)

Inefficient microphones outdoors
The Nothing Ear (2) in a nutshell
The Nothing Ear (2) was unveiled on March 21, 2023, with an asking price of $149. This is $50 more than when the Nothing Ear (1) debuted last year. However, it is no longer the case since the Nothing Ear (1) News 4 Social reviewed last year saw its price shoot up from $99 to $149 after the release of Nothing ear (stick) at a little less premium price point of $99.
In short, I would like to say that Nothing has moved upmarket but not only in terms of price. Carl Pei, with his OnePlus heritage, knows that listening to his community is not so bad at times. This year, the Nothing Ear (2) silenced many of the criticisms I had about their predecessors.
It retains this cool transparent plastic look but we have a brand-new HD codec, Hi-Res certification, ANC, and an equalizer that is specially adapted to your hearing while retaining its fast charging quality. A hell of a combo for less than $150, which is half the price of the AirPods Pro 2.
Design
When it comes to its design, almost nothing has changed on the Nothing Ear (2). The earbuds have exactly the same look, with an in-ear format that looks like a mini hair dryer, and its famous transparent plastic exterior. The case is a little more compact and thicker, but that's about it.
---
Pros:
IP54 for the earbuds, IP55 for the case.
Port sensor.
Compact case.
Correct and comfortable support when worn.
Cons:
A not-so-unique look (hair dryer form factor like all the rest).
---
I wanted to talk about the design of the Nothing Ear (2) last, but I didn't want to upset your reading habit, so we'll do it quickly.
Visually, the design of the earbuds is exactly the same as the Nothing Ear (1) from last year. The actual changes happened inside, and I'll talk about them in the "audio quality" section.
They are both IP54 certified for water and dust resistance. The case itself is IP55 certified. In other words, you can consider them for sports use as long as you don't go to the pool.
The fit in my ears proved to be more than decent. They don't pop out when I am chewing and overall, I didn't need to constantly readjust them frequently. The wearing comfort is also very good, if you can stand the in-ear form factor.
When we take a look at both stems, we end up with capacitive keys, just like what you will find on the Airpods Pro. You will have to press the stem once, twice, or three times to activate a particular command. It avoids any false detection and worked pretty well throughout the time I spent with it. In these stems, Nothing explained that they have reversed the position of the antennas (which used to point downwards and are now pointing upwards). This is supposed to prevent your little cheeks from blocking the signal during calls.
Well, it's clearly not a revolution in design. I still found the transparent look of the Nothing Ear (2) to be cool. The case looks solid even if the transparent plastic will inevitably get tarnished and scratched when it is in your pockets.
Audio quality and microphones
The real changes are found inside the Nothing Ear (2). They are Hi-Res certified, unlike the previous model. We finally have an HD audio codec with the LHDC in addition to the basic SBC and AAC standards and we have a new system of double drivers that measure 11.6 mm. The improvements are really noticeable compared to the previous model.
---
Pros:
LHDC audio codec.
Two 11.6 mm drivers.
Hi-Res certified.
Much more faithful audio signature in the midrange and treble.
Cons:
Profile is a little too low by default.
---
Dual drivers and LHDC codec
We will begin with this system of double drivers that measure 11.6 mm. They are composed of a mixture of graphene and polyurethane and are supposed to improve the quality from one end to the other end of the frequency range.
In front of and behind the two diaphragms (diaphragms, drivers, loudspeakers—they are all the same thing), we have two "chambers" of air or airlocks. These chambers allow one to limit the echo for an audio signal to be more faithful to the source. It also allows better spatialization, at least in theory.
All this, according to Nothing, has allowed the Nothing Ear (2) to be certified Hi-Res. Basically, this means that the earbuds are capable of reproducing 24 Bit/192 kHz at 1Mbps. But all this is useless if you don't have an HD audio codec playing through these earbuds.
And, unlike the Nothing ear (1), the Nothing Ear (2) supports the LHDC codec in addition to the basic (and mandatory) SBC and AAC. Technically, and if you have a compatible source (smartphone, tablet, etc), you can enjoy bitrates up to 900 kbps with a 24-bit depth and 96 kHz sampling rate.
So if you have a subscription to Tidal or other similar music streaming services, or you have CD-quality audio files locally, you can listen to them in a far better manner. If you're listening to MP3s or Spotify, it won't make much of a difference in your life.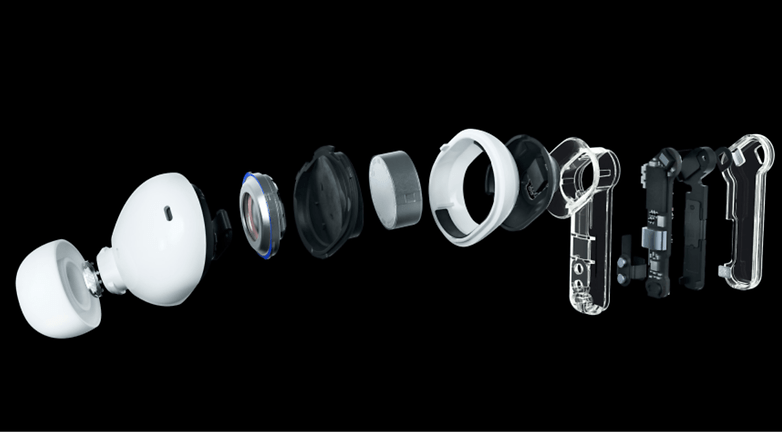 Big improvements in audio quality
Personally, I think Nothing has made big improvements in the audio quality. Bass is still a bit boosted by default, but you can adjust that via the EQ.
The midrange is much more accurate, and that's important because that's where you find the essence of the musical stage, voices, instruments, etc. Above all, the highs are less harsh than before. This is especially stark as the highs are less pronounced than on the Nothing Ear (1). Not only that, it is so much better, and we do not have any more these worries of sibilance, with the sounds in "S", "F" or "Sh" which whistle and make the eardrums creak.
An equalizer specially adapted to your hearing
On the Nothing Ear (2), there is an equalizer in the Nothing X application. Basically, you can test your ears and see how well you can hear from one end of the frequency range to the other, i.e. low-medium-high. The application shows you how much detail you hear, and how much detail the equalizer had to compensate for.
Nothing is not the only one to offer this. I found the way of presenting the results very interesting. You get a better understanding of how you perceive music and how much the equalization impacts the user experience.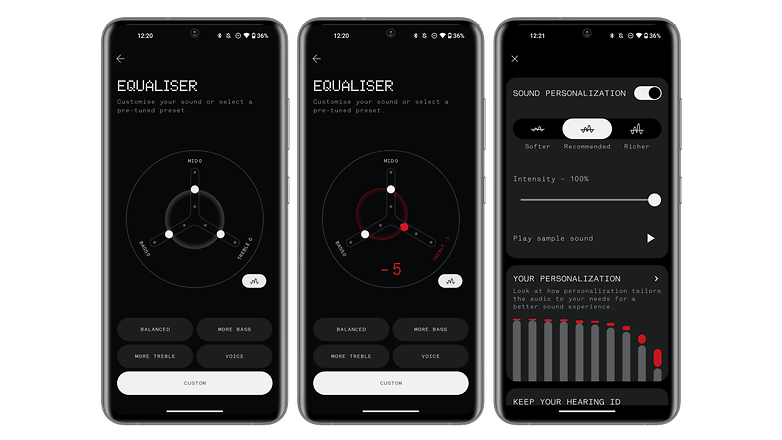 A quick point about the quality of the microphones. I found it to be very average, as on almost all the wireless earbuds I have reviewed. When indoors, it passes the test. When one is outdoors, it's barely better or even worse than with the smartphone's microphone. I will let you judge by yourself with these short extracts recorded with the Nothing Ear (2) on my Nothing Phone (1).

Interior – quiet

Indoor – with background noise

Outdoors
Active Noise Reduction (ANC)
The Nothing Ear (2) offers active noise reduction, or ANC in short. We can reduce ambient noise up to 40 decibels according to the manufacturer. We also have a transparency mode. Once again, Nothing has made great progress and these different modes affect the audio quality much less than before.
---
Pros:
Good attenuation of structure-borne noise.
Adaptive ANC doesn't sound too temperamental and adjustments are made smoothly.
Good passive isolation (without ANC).
Manual adjustment of the ANC is possible.
Cons:
Human voices are not sufficiently attenuated, especially with adaptive ANC.
---
The active noise reduction (ANC) of the Nothing Ear (2) is adaptive and uses three microphones in each earpiece. You can test it in a noisy environment and the Active Noise Reduction will automatically adjust to the surrounding fluctuations.
You can also opt for a manual setting and choose from three levels of intensity. For my part, I preferred the ANC in manual mode and always left it on the highest notch. In adaptive mode, I found that the voices of people around me were not filtered enough.
Solid-borne noise (noise produced by contact between two surfaces) was well attenuated in both cases, and most importantly, the sound quality, or rather the sound signature, was not too much affected by the activation of the ANC. Basically, the difference between what you hear with and without ANC is not as pronounced as with the previous model.
I don't have any frequency response measurement tools at my disposal. I would like to invite you to go and see the DMS video which has done some very good analysis comparing the audio rendering with or without ANC and with or without transparency mode, with curves to support it.
Features and connectivity
We'll quickly go over the Nothing X companion app. It is available on both Android and iOS. Yes, even Apple fans who are apostles of the Holy Tim Cook can use it on their iPhone 14 Pro Max! Ditto if you have an equally overpriced Galaxy S23 Ultra.
---
Pros:
Nothing X application is available on Android and iOS.
Wholesome user interface.
Dual pairing via Bluetooth 5.3.
Cons:
Some occasional stability issues.
---
In the Nothing X application, you can adjust the intensity of the ANC, activate the transparency mode, manage Nothing's slightly weird equalizer, and assign the haptic controls.
The Nothing Ear (2) also has a port detector, dual Bluetooth pairing to connect 2 devices at the same time via Bluetooth 5.3. There is also a function to locate your earbuds when you lose them.
Nothing X also offers various tests, including the one that I mentioned above. You can test your hearing to adjust the equalizer and you can also test if your earbuds are correctly inserted in your ear canal.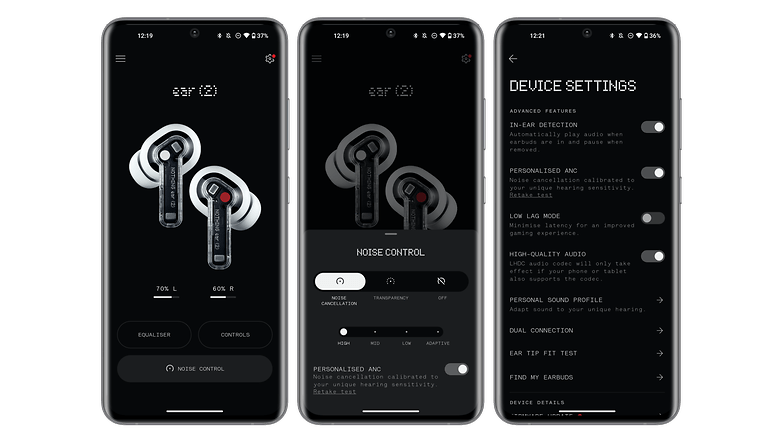 In short, I found the application to be very complete. The interface is visually cool while the equalizer can be a bit weird to grasp at first. Apart from that everything is ok.
Pairing is very easy with Google Fast Pair (and Microsoft Swift Pair for PCs). The dual pairing works well even if I found that the Nothing Ear (2) took a little too long to switch from one device to the other.
I also had some connectivity problems on Google Meet via my PC. Voices sometimes sounded a bit robotic for a few seconds. Maybe it was my connection, I don't know. I was also using a beta version of the firmware, so that is worth mentioning. Perhaps the final release version will work better.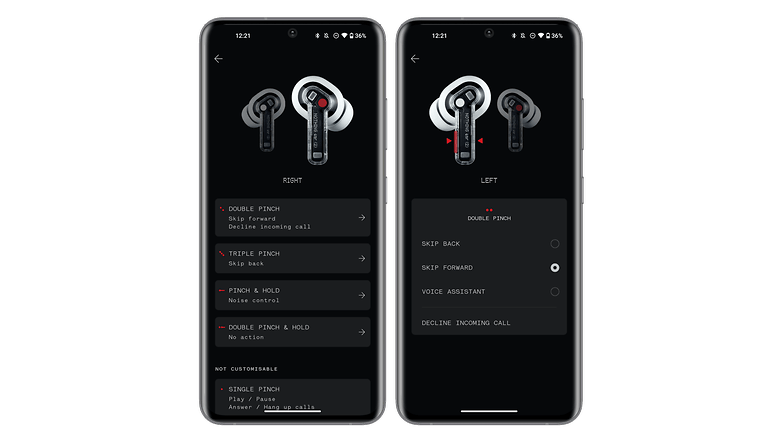 Autonomy and recharging
Nothing guarantees a total of 36 hours of battery life, including recharging it via the case. On a single charge, the earbuds themselves can last up to 6.3 hours according to the manufacturer. We can also wireless charge (Qi) it at 2.5 watts.
---
Pros:
Up to 5 recharges via the case.
Wireless charging using standard Qi adapters.
USB-C cable provided.
What I disliked:
4 hours with ANC, 6 hours without.
---
Without ANC, the earbuds last up to 6.3 hours on a single charge. With ANC, that drops to 4 hours. Obviously, if you make calls, the overall battery life drops a bit more.
Overall, I found the battery life of the Nothing Ear (2) to be rather average compared to what is done on the market. Four hours with ANC enabled, which is rather little for me especially because I constantly left the active noise reduction activated.
On the other hand, the battery of the case is more solid than many of its competitors. You can perform up to five full recharges of the earbuds via the case before you have to recharge it too (via the included USB-C cable).
In comparison, the Soundcore Liberty 4 can only be recharged twice in the case. They also have a battery life of seven hours with ANC and nine hours without.
When it comes to charging, you can do that on a wireline basis via USB-C. Ten minutes of charging gives back the equivalent of eight hours of listening time without ANC. We also have the Qi wireless charging in 2.5 watts which is always a pleasure in this price range.
Conclusion
So, is the Nothing Ear (2) a yay or nay? Personally, I strongly recommend it. I won't compare them to the AirPods Pro 2 because I haven't reviewed them yet and because they are twice as expensive.
But the Nothing Ear (2) corrected almost all the defects of the Ear (1). I criticized the Nothing Ear (1) for being just cool in appearance but too basic in terms of technical specifications and audio quality.
This is not the case anymore, or at least, it is much less the case with the Nothing Ear (2). For less than $150, you get an HD codec, wireless charging, adaptive noise reduction, and a maximum battery life of 6 hours per earbud.
It's not that much to pay to spice up your ears with true wireless earphones that are clearly more stylish than the countless white hairdryers we're used to seeing in this price range.
What about you? What do you think about Nothing Ear (2)? Whether you're using an iPhone or Android phone, would you consider them in your daily life?
Nothing Ear (2)
To device database
Check More Latest Mobile News Click Here– Latest Mobile News