Ryobi 40 Volt Cordless Jet Fan Leaf Blower review – Your yard debris can be Gone With The Wind  – The Gadgeteer

The Gadgeteer is supported by readers like you! If you buy something through links on our site, we may earn an affiliate commission at no cost to you. Thank you! Learn more.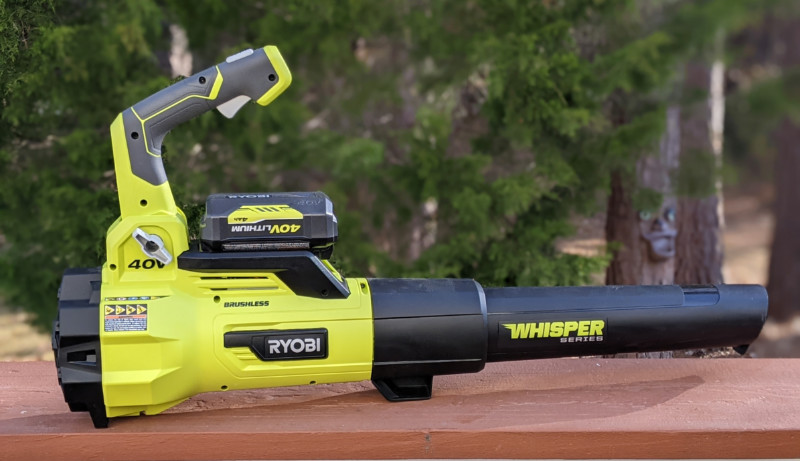 REVIEW: The Ryobi RY40407VNM 40 Volt Cordless Jet Fan Leaf Blower is a 'uni-tasker'. It simply blows stuff from where it is, to where you want it to be. This is the first Ryobi tool I've handled and it has me thinking about other 40 volt Ryobi tools since they all use the same battery. It made me not miss certain things about my previous blowers. Farewell, non-starting gas powered blower, and you, trip-over-the-long-heavy-cord, corded model.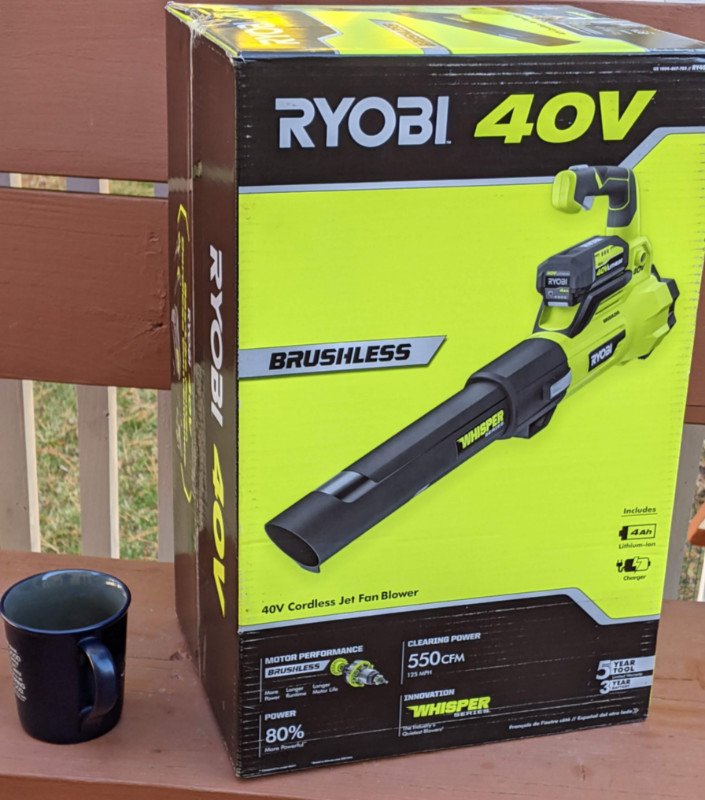 What is it
The Ryobi 40 volt leaf blower is a high air volume output, cordless blower with a 40 volt rechargeable lithium ion battery. I am reviewing model RY40407VNM available only at Home Depot.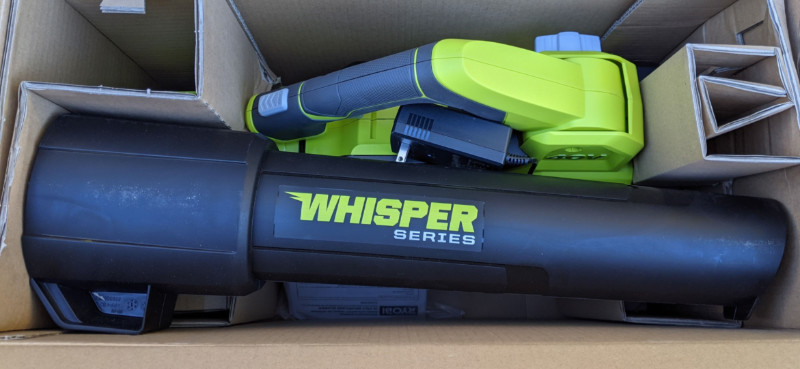 What's in the box
Blower body

Blower barrel

40 volt battery

Charger

Manual and warranty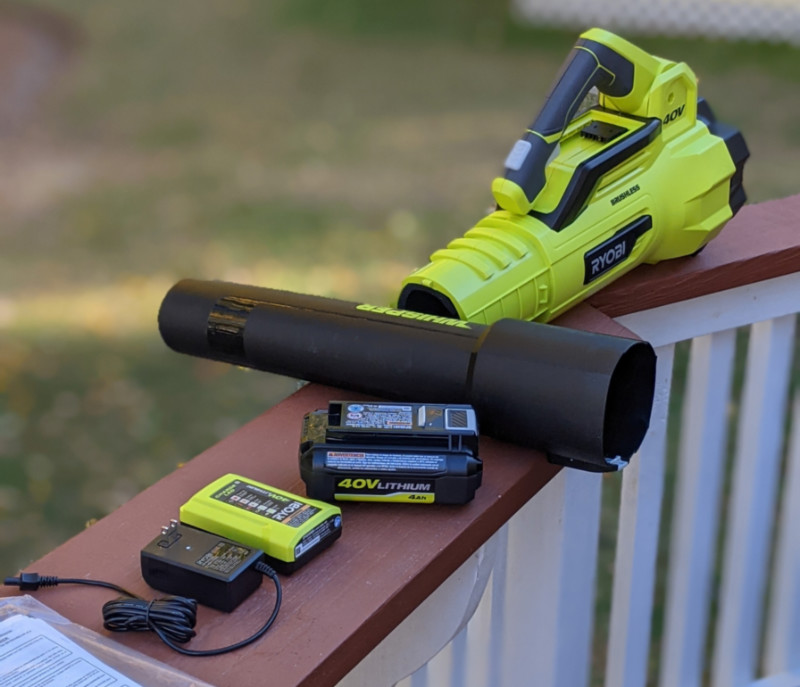 Hardware specs
Length: 36.15"

Height: 16.33"

Width: 7.27"

Weight: 9.7 lb

Battery type: Lithium ion

Battery capacity: 4 Ah

Maximum air speed: 125 mph

Maximum air volume: 550 CFM

Noise rating: 59 dB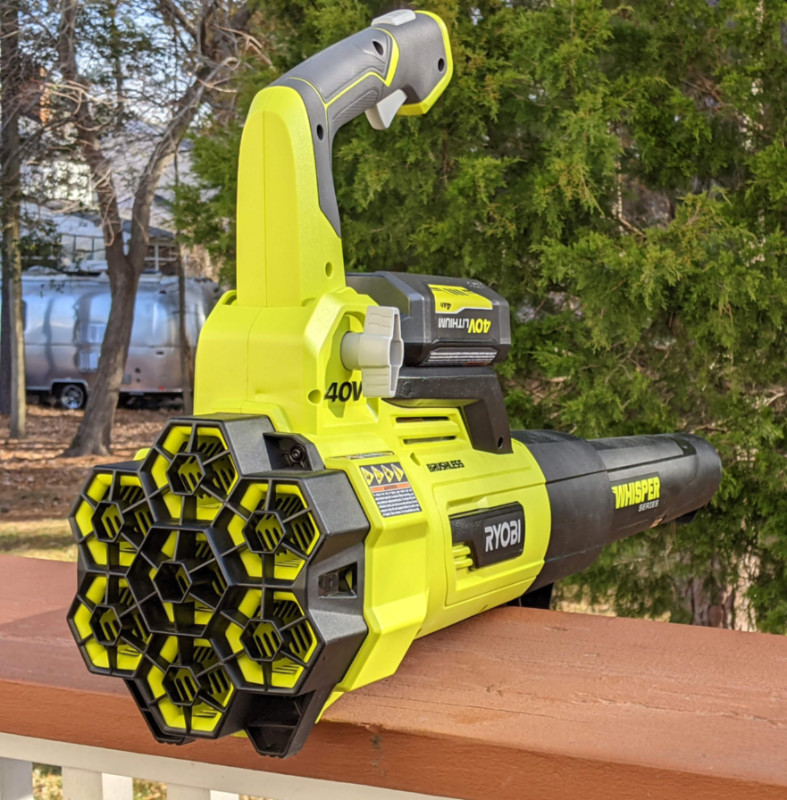 Design and features
Adjustable speed blower motor 

Turbo switch

Brushless electric motor for increased power and performance

Blowing power similar to gasoline powered blowers

Blower barrel tip has a scraper edge to loosen leaves or grass stuck to a surface

Works with all Ryobi 40 volt batteries

Warranty: 5 year limited tool warranty, 3 year limited battery warranty

UL listed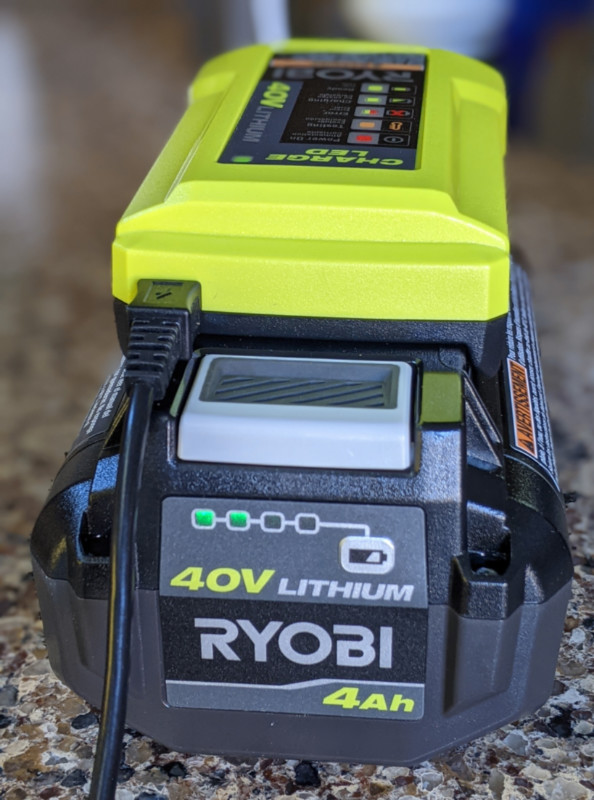 Installation and Setup
Setting up the Ryobi is easy. I charged the battery, attached the battery to the blower, connected the blower barrel to the body of the blower, set a comfortable handle position, and I was off to clear leaves.
Testing and observations
The Ryobi worked perfectly for me. I could stop the review here but I have a duty.
At Strickland Acre (singular), in spring through November I use a blower to clear the driveway and sidewalk after mowing. In mid-November to mid-December it's leaf clearing time.
Here's what I was relieved to NOT do during this leaf blowing season:
Retrieve the corded blower and 100 foot extension cord from the shed.

Plug in the cord in my house and unreel the cord to the outside after closing the house door carefully against the cord, hoping the dog won't sense this escape option. 

Lay out the cord to where it is needed in the yard.

Use the blower.

Go inside to unplug the cord then wind the cord on its reel.

Stow the cord and blower in the shed.
Here's what was actually FUN to do this leaf blowing season:
Get the Ryobi blower battery from the indoor utility room. (I store all batteries indoors.)

Attach the battery to the Ryobi blower in the shed.

Pull trigger, see blower work.  

Use the blower.

Return the blower to the shed.

Thumb nose at cord and old blower.

Return the battery to the indoor utility room.

Go treat the dog for the heck of it.
EFFECTIVENESS
The Ryobi 40 V blower did a great job doing what it was created for, moving leaves from here to there. On one day I had to blow against the wind and as challenging as that was I mostly got the job done. That's a challenge for any brand of blower but the Ryobi held its own and did as well as others I've used.
CHARGE CAPACITY
The Ryobi blower battery capacity allowed me to completely blow leaves from our back yard into attached woods or into a central natural area with power to spare. I.e. In my half acre backyard, blowing fairly heavy amounts of leaves and pine needles, the battery did not fully deplete.
WEIGHT
I could eventually 'feel the burn' in my forearm from holding the Ryobi blower for longer periods, so I'd switch hands for a while. I'm no bodybuilder but do weights workouts so it's not my first time lifting 10 pounds. I don't want to overstate the issue either, but I may hack a strap or rope over the shoulder and blower to help share the load if I have really big jobs to do. An official accessory is something Ryobi may want to consider.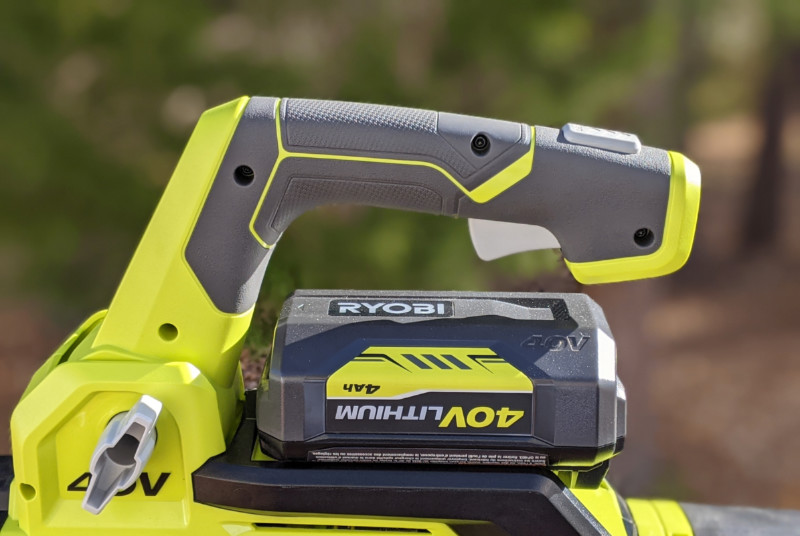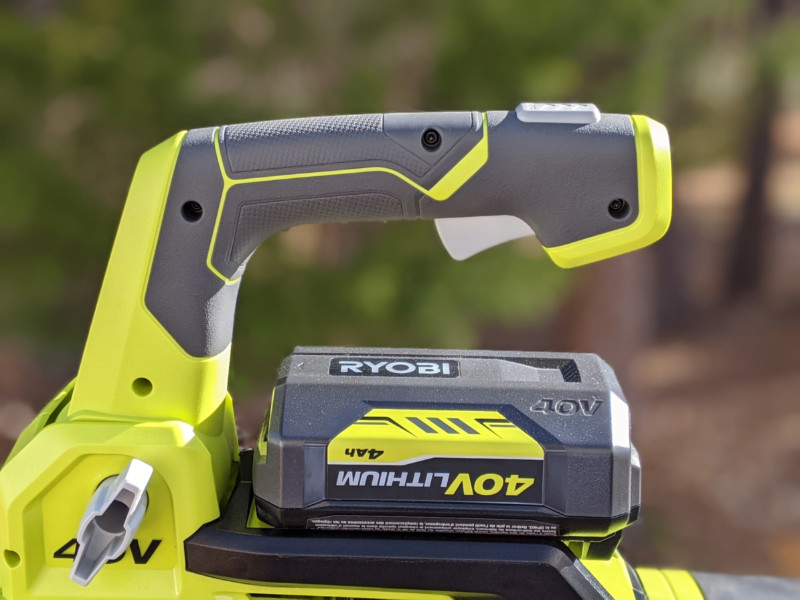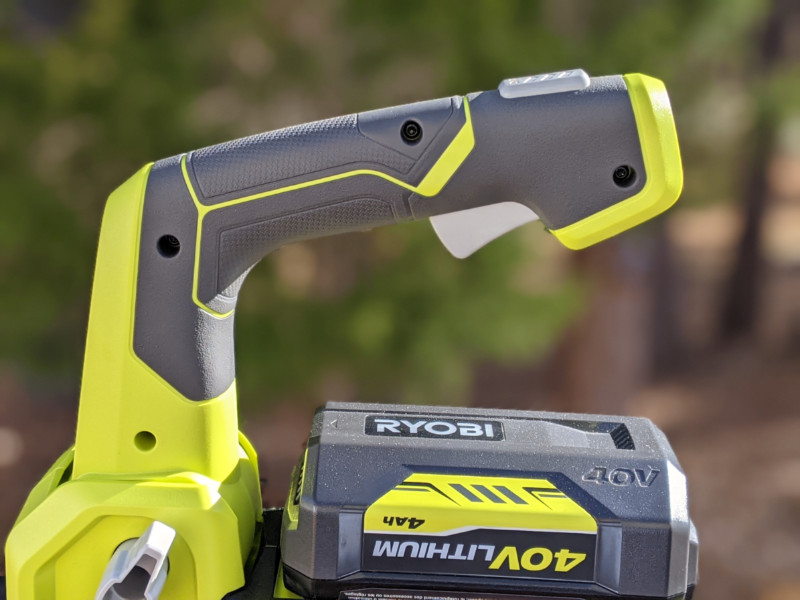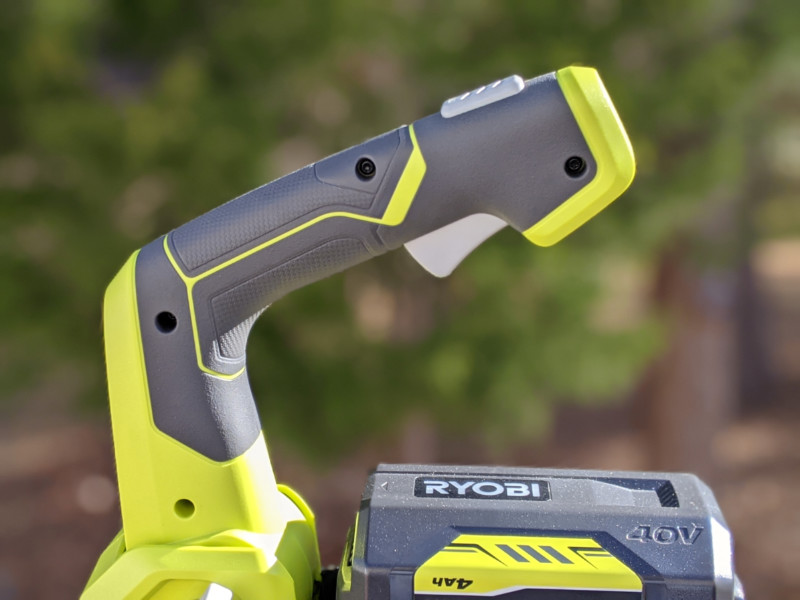 HANDLE POSITION
I liked the 'fully back' handle position vs. having it closer to the battery. This angled the blower barrel tip towards the ground while the handle was nearly parallel to the ground. This helped me handle the load more comfortably.  
VARIABLE SPEED
Here's an example of how this was handy. My wife has plants in pots on our deck. It was great to be able to let up on my trigger squeeze for less intense air-speed coming out of the blower when I was near plants that I didn't want to blow out of their pots, or at least break at their stems. In the yard I tended to use the full trigger pull but didn't need turbo more than once or twice when I was blowing against a breeze trying to oppose me.
NOISE LEVEL
My phone sound meter app indicated the Ryobi 40 V blower at 72-73 dB at 4 feet distance, with the trigger fully depressed, which is the highest blowing speed short of turbo. The manufacturer lists the noise level at 59 dB but there's no detail on how they tested and from what distance.  I recommend using hearing protection with all yard equipment other than picks and shovels.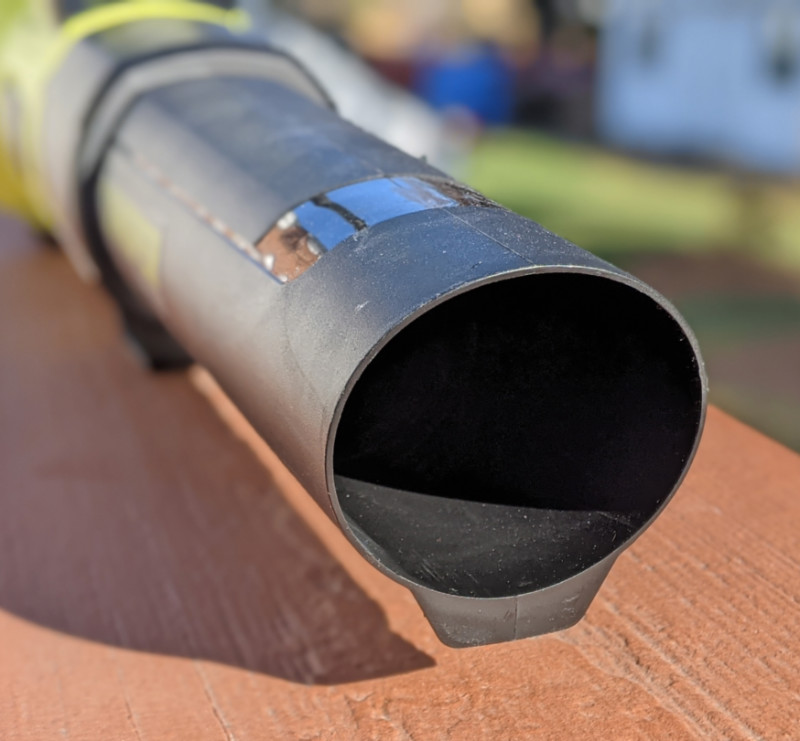 What I like
Not as loud as gas blowers

Simple operation. A trigger pull vs. gas blower trouble starting, maintenance, gas and oil mixing, etc.

Very good blowing power

Good battery capacity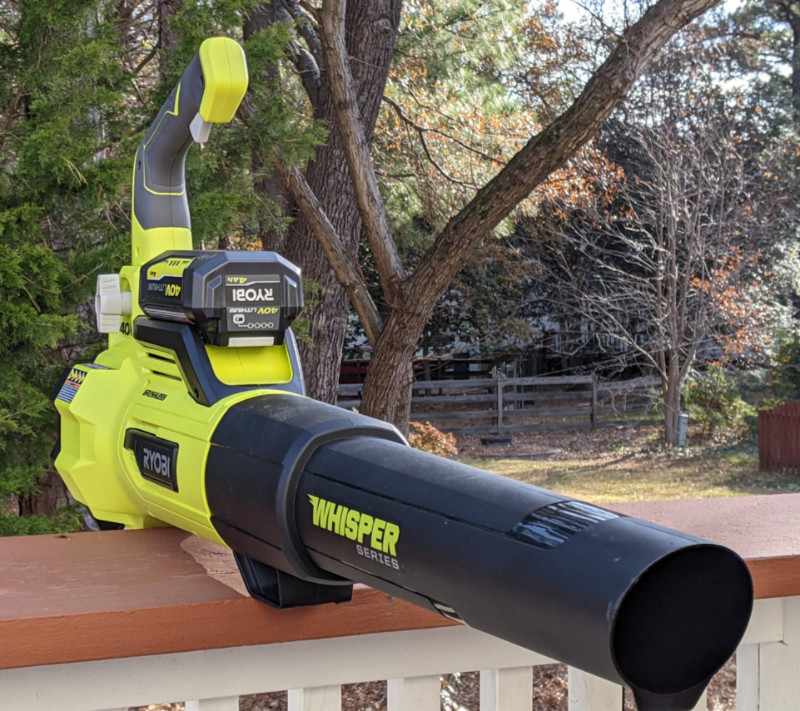 What I'd change
A shoulder strap accessory would be nice to help take some load off the arm.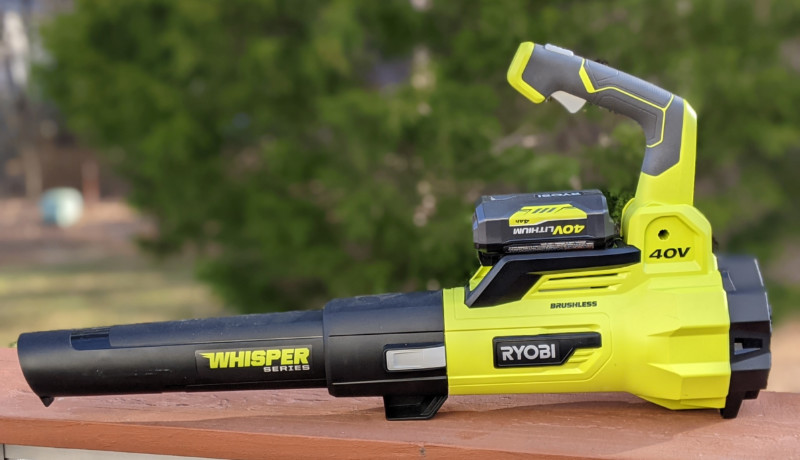 Final thoughts
The Ryobi RY40407VNM 40 volt blower performed without fault during my testing. It's a relief to pull the trigger and have it work, as I recalled the old days of 'pull, pull, pull, exclamation, pull, pull' gas blower experiences.
Price: $199
Where to buy: Home Depot
Source: The sample for this review was provided by Ryobi.
Related